TOUR INFO
Meeting Point
In Duomo Square, in front of 900 Museum
When
Tuesday – Sunday
Time
from 10:30 am to 5 pm
Language
English
Tour Overview
Duomo Introduction
Meet your guide in Piazza Duomo in front of 900 Museum. Admire the beauty of this Gothic Cathedral, from the outside, characterized by height and dramatic ornamentation with over 3,400 statues and thousands of individual spires.
Terraces
70 meters high, right in the middle of the 135 spiers, you will find yourself in front of a splendid view of the city skyline: on one side the new skyscrapers of the Isola district and, in the days of clear skies, the snow-capped Alps; on the other side the rooftops of Milan and of course the below Piazza del Duomo always teeming with life.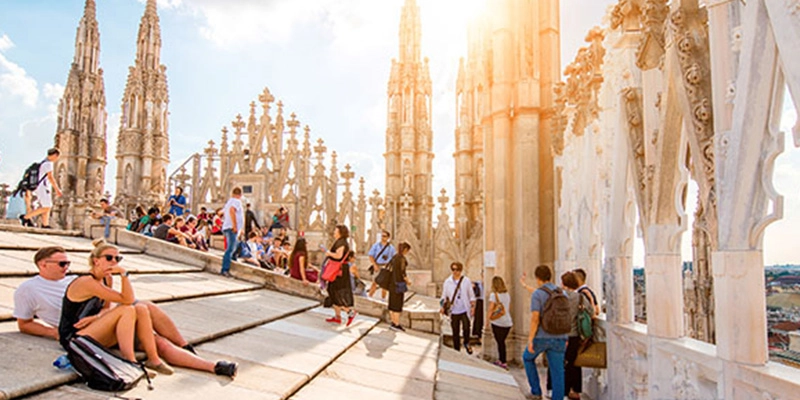 The Cathedral
Admire the Duomo's interiors, from the bronze portals, magnificent and decorated in alto relievo, to the stained glass windows that tell a scene or a story.
The archaeological area - (ACCORDING TO AVAILABILITY)
The archaeological area preserves the monumental remains of the site that developed between the IV and XIV century AD, a heritage of the highest cultural and religious value that recreates the appearance of the city before the construction of the Cathedral that we see today. The visit of the archaeological area depends on the number of participants.
San Gottardo Church - INCLUDED IN YOUR TICKET
After your guided tour, you can visit the San Gottardo Church, Ducal Chapel by Azzone Visconti on your own.
Duomo Museum - INCLUDED IN YOUR TICKET
After your guided tour, you can visit the Duomo Museum on your own. Tou would admire numerous objects of interest, such as statues, tapestries, embossed pieces, terracotta scale models, graphic material, paintings .