Milan Last Supper Tour & Santa Maria delle Grazie
See Leonardo da Vinci's masterpiece: The Last Supper 
Come with us on an unforgettable tour of Milan's Santa Maria delle Grazie church, the home of one of Leonardo da Vinci's greatest masterpieces: The Last Supper. Many people visiting Milan simply search for tickets to see Da Vinci's Last Supper, without considering the benefits of taking a tour with an experienced licenced guide. The beauty and elegance of The Last Supper speaks for itself, but there is so much historical background and context around it that add to the experience. And the Santa delle Grazie is an incredible building in its own right and our Last Supper Tour covers the building's vibrant history. This Milan Last Supper Tour is so focused that it is best when paired with something a little more general, such as our Free Tour of Milan or our Classic Milan Walking Tour.
More information about our Last Supper Tour
In this tour, you will see the world-famous masterpiece in one of the most impressive Dominican churches in the world. This guided tour lasts 1 hour 15 minutes and you will spend the entire time in and around the Santa Maria delle Grazie. Learn about Da Vinci, one of history's true polymaths and one of the greatest artists to have ever lived. Learn about The Last Supper — Da Vinci's 15th-century mural that became one of the most iconic art works in history. You will hear about the groundbreaking techniques used to create The Last Supper and explore the breath-taking Santa delle Grazie. 
Skip-the-line access to The Last Supper
For many people, one of the most attractive aspects of our Milan Last Supper Tour is that it offers skip-the-line access. Depending on the time of year, Milan can be very busy, and there are often lines of visitors to see Da Vinci's masterpiece. With the connections and influence we have built up at Citywalkers, we have made sure that visitors to our tours don't have to wait in line. And the best part is that this gives our guests even more time to enjoy Milan's sights and attractions. If you have any questions about this Last Supper Tour in Milan — or any of our other Milan Tours, please don't hesitate to get in touch.
Tour Overview
Meeting Point
Meet our licensed guide in front of Santa Maria delle Grazie. Look for a guide with a yellow umbrella or CITYWALKERS logo. Wear your headphones and enjoy the tour.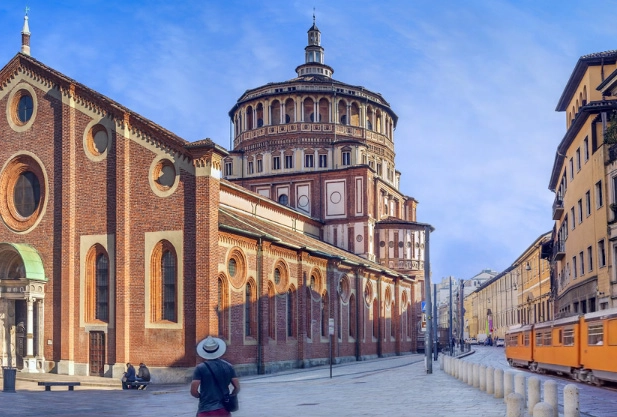 Santa Maria delle Grazie
Santa Maria delle Grazie, a UNESCO World Heritage Site and an exceptional testament to the Renaissance architecture in Milan. Designed by Guiniforte Solari in 1463, with later additions by Bramante, this stunning Lombard church encapsulates the magnificence of the Milanese court of Ludovico Sforza and Beatrice d'Este.
Bramante's cloister
The cloister, designed and built by Bramante, has a squared, geometric shape, softened by some bushes and by their circular and sinuous lines. A fountain, which gives the name of the cloister, is adorned with four statues of frogs from which the water flows. The fountain is round as the bushes surrounding it: this shape helps to increase the structure dynamism and relax our spirits.
Last Supper
Milan's most famous mural, Leonardo da Vinci's The Last Supper, is hidden away on a wall of the refectory adjoining the Basilica of Santa Maria delle Grazie. Depicting Jesus and His disciples at the dramatic moment when He reveals He's aware of the betrayal, it's a masterful psychological study and one of the world's most iconic images.
Ending Point
Returns to original departure point (in front of the Church Santa Maria delle Grazie)