TOUR INFO
Meeting Point
Via Villa dei Misteri, 3:

ZEUS PARKING
When
Everyday
Time
10:00 am
3:00 pm
4:00 pm
Language
English
Tour Overview
Marina Gate
This gate provides access to the west of the city and it is the most impressive among the seven gates of Pompeii. The name derives from the fact that the exit road led to the sea. The layout with a barrel vault made of concrete, that is a mixture of mortar and stones, dates back to the Silla colony (80 BC).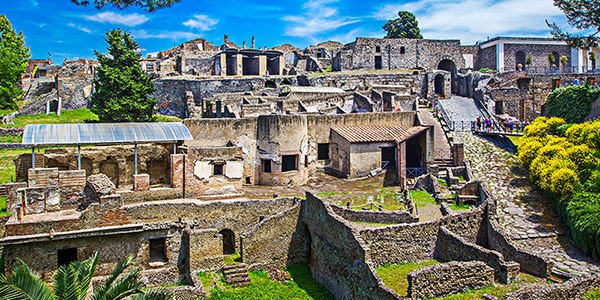 Basilica
The Basilica, with its extension of 1,500 square metres, was the most sumptuous building of the Forum, and its space was used to carry out business and for the administration of justice.
Forum
The Civil Forum is the core of daily life of the city and is the focal point of all the main public buildings for city administration and justice, business management, and trade activities such as markets, as well as the main places of citizen worship.
Lupanare (Red Light District
The brothel is named from lupa, a Latin word meaning 'prostitute'. Small paintings with erotic depictions on the walls of the central corridor informed customers of the activities that took place within the Lupanare.
Private Home: Fauno Home or Leda and the Swan Home
Visit onw of the best Domus romana (private house) well preserved in Pompeii
Roman Bath
The Forum Baths are located behind the Temple
of Jupiter and date back to the
years immediately after the founding of the colony of veterans by General Silla (80 BC). Women's and men's quarters had separate entrances. The men's section presents an apodyterium (dressing room), used also as a tepidarium (for medium temperature baths), frigidarium (for cold baths) and calidarium (for hot baths).
Roman Theatre
The Grand Theatre was built around the middle of the 2nd century BC by exploiting the natural slope of the hill for the construction of the auditorium. The staircase was separated into three areas with corridors, which were in turn divided into five sectors, and was based on a passage with a barrel vault.